Touch screen control (for touch screen presentations)
| | |
| --- | --- |
| Supported file types | Website based pages (*.htm, *.html, *.asp, etc) and picture files (*.jpg, *.gif, etc) |
| Playlist support | No |
| Scheduler support | No |
| Scrolling support | No |
| Rotation support | No |
| File locations | Website pages on local or network drive, and Internet websites (Standard and above editions). |
| | |
Description

The touch screen control is automatically created for touch screen presentations and appears in the middle of the screen. This control allows you to display a website designed to be used with a touch screen. On normal website pages, there are text hyperlinks (text that when clicked takes you to another page or website) such as:

Example hyperlink (Don't try to click this as it's just an example)
If you are using a touch screen and tried to touch this hyperlink with your finger, then it may take a couple of goes to precisely click it. Now look at the button below:

(Note - Don't try to click this as it's just an example)
This is a hyperlinked picture so that when you click on this image, it takes you to the desired website page. This image is large so that if someone were using a finger on a touch screen to touch it to perform the mouse click.
Repeat Signage is not website design software and you will need someone experienced creating websites to create your touch screen website which can then be displayed with Repeat Signage. This could be someone within your organisation or use a local website design company.
See
Repeat Signage touch screen presentations overview
for information on how this works in Repeat Signage.
New Repeat Signage V4 picture based touch screen Flash

You can select pictures, PDF files, Word, Excel, and PowerPoint documents, and easily display the content to your users with customisable touch screen buttons for navigation. With Repeat Signage V4, all of our Flash Banner control options are available to you to display pictures and documents interactively to your users. There are currently 4 different Flash display options: BANNER 01, FADER 01, ROTATOR 01 a nd PAGE FLIPPER 01.
For example, you can display PowerPoint files (or pictures, PDF files, Word, Excel, etc) with navigation buttons. The picture below shows our BANNER 01 option full screen with previous and next buttons on either side of the presentation: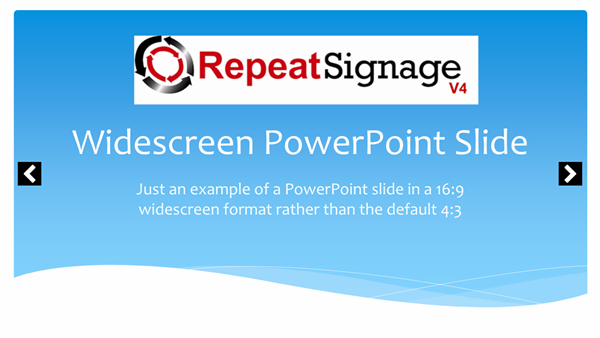 In the picture below, the touch screen area is surrounded by a logo, Flash Clock and title text and this uses our ROTATOR 01 option to show a series of pictures on a conveyor belt and with large arrow navigation buttons for users to interact with:
and our PAGE FLIPPER 01 option allows product brochures in PDF (or Word, Excel, PowerPoint, picture formats) to be displayed as a book that users can interact with: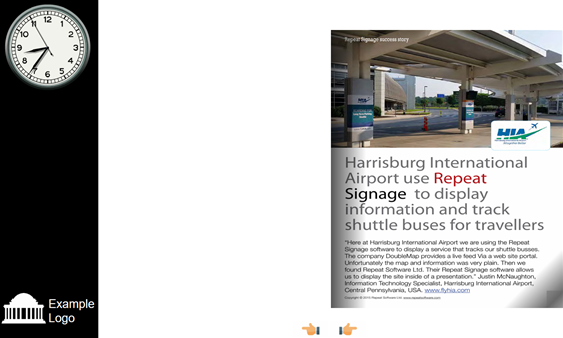 We have also added a left bar with a logo and clock again to complete a design.
In the above examples, there are 'previous' and 'next' touch screen buttons. You can design your own using our Repeat Icons system or select your own picture files.


There are over 4,000 icons in our collection for you to use and you can optionally build up icons by combining them and adding text. There is also a button template system for you to quickly get started: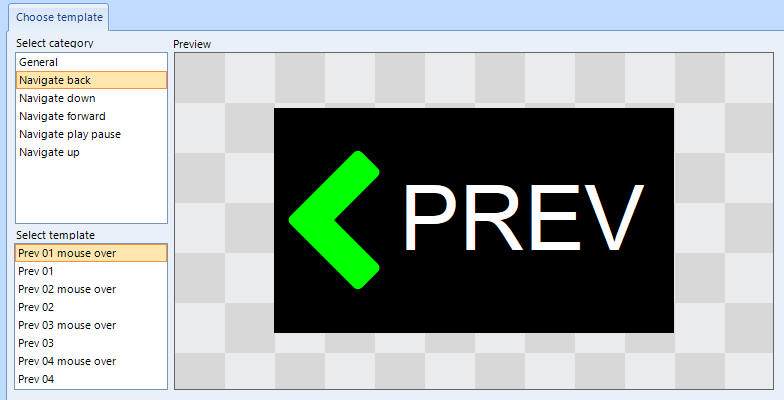 Touch screen modes
You have 3 ways in which you can design touch screen presentations:
Full screen touch screen area without a virtual keyboard
Create a full screen touch screen area (click on the touch screen control, then right mouse click, then click on 'Size' then 'Full screen'). This will just allow your users to interact with your touch screen website and navigate between pages. Without a keyboard control on screen, then user will just be able to look at information but not enter information. A good example of this would be in a school reception area, when the school's website has be modified to use button navigation (see above) rather than hyperlinks. Parents, teachers and students can then look at information happening in the school. Touch screen monitors are not expensive anymore. A 21" widescreen, full HD, touch screen can cost from as little as £200+VAT in the UK (August 2011). One of these touch screen monitors, a reasonable specification computer base unit and Repeat Signage, would all that would be required, but a bit website design work.
Non-full screen touch screen area without a virtual keyboard
With the touch screen area not full screen, you can also put other Repeat Signage controls on screen. For example, you could 'frame' the touch screen area and have logos, contact numbers and other information that will be shown all the time, regardless of which touch screen website page is being displayed. You would also have an
RSS feed control
displaying a news feed for your organisation, or news such as from the BBC website, along the bottom of the screen.
You can also use
text label controls
and
picture controls
with click actions set (this is the action that happens when a user touches or clicks them) so that a specify page is navigated to when touched. These can be arranged anywhere around the touch screen area. You can even use
text label controls
to design and layout your own keyboard styles.
Non-full screen touch screen area with a virtual keyboard
With the touch screen area not full screen, then add a
Keyboard control
to the screen. This takes up quite a large area when you have resized the keyboard so that the button are the right size for your users finger to touch them easily (there size really depends on the monitor size). You can also use other controls such as
RSS feed controls
,
picture controls
, etc, to frame and create an overall design around your touch screen area and virtual keyboard.