Playing PowerPoint presentations in Repeat Signage
There are currently 3 ways of using PowerPoint files within Repeat Signage:
1. Display PowerPoint slides as pictures in our Flash Banner control or Picture control. This just involves selecting a PowerPoint ppt or pptx file and the pictures slides are automatically extracted. This means you can display PowerPoint slides at any size within a presentation, and even have multiple controls displaying different PowerPoint files at the same time.
2. Export PowerPoint file to a flash video and play with the Flash video control.
3. Use the PowerPoint presentation scheduler control to display PowerPoint files full screen, which allows scheduling of different PowerPoint files to be displayed at different times.
A quick comparison of the advantages and disadvantages of each:
| | | | |
| --- | --- | --- | --- |
| Feature | Export slides to pictures | Export PowerPoint to video | Play using free PowerPoint Viewer |
| | | | |
| System processor and memory usage | Low | High | Low |
| Display at any size within a presentation so that other elements such as ticker tape controls can be used | Yes | Yes | No |
| Preparation | None | Export to video and then convert to Flash video | None |
Displaying PowerPoint slides with the Flash Banner and Picture controls
Repeat Signage allows the conversion of Microsoft PowerPoint .ppt and pptx files to individual pictures of each slide. This means that PowerPoint files can be used in any of the picture based Repeat Signage controls including:
For example, you can use with our Flash Banner control in the following way:
1. When editing a presentation, insert a new Flash Banner control. Then add a PowerPoint file to the play list. There are some samples installed with Repeat Signage in the picture folder such as WindyridgeCanteenMonday.pptx:

and click on OK to add this to the screen: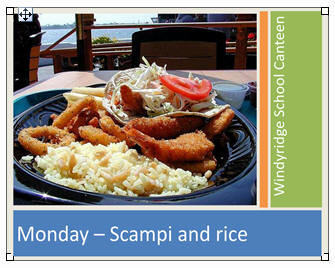 This can be resized as you require. By default, only the first slide in a PowerPoint presentation (or PDF, or Word Document) is displayed. Double click your new control and then select the Page tab:

and select 'All pages'. This will then display all the slides in your PowerPoint presentation.
Export Microsoft PowerPoint presentations to wmv files to play in Repeat Signage
To convert a PowerPoint file to a wmv video:
1. Open the PowerPoint file in Microsoft PowerPoint 2010
2. Click on 'File' then 'Save & Send'
3. Click on 'Create a video'
4. Read the page information
5. Select the target number of pixels, either large 960x720, medium 640x480 or small 320x240. If you are not sure then go for medium as this gives good quality and a smaller file size than large. When you have later inserted your video into a Repeat Signage presentation and sized it to your needs, you will then be able to see the size in pixels of your video control and decide it you need your video to be more or less pixels. You can always export it again with different pixel settings later.
6. Select either 'Don't Use Recorded Timings and Narrations' or 'Use Recorded Timings and Narrations'. The 'Don't use ...' option just allows you to specify how long in seconds to display each slide for. The 'Use Recorded ...' option can be selected when you use the Rehearse feature of PowerPoint to manually decide when each slide (or effect within a slide) is displayed on screen. To do this, you can select 'Slide Show' from the menu and then click the 'Rehearse Timings' button to display the PowerPoint presentation and set these timings.
7. Click on 'Create video' and specify where you want the .wmv file creating.
You will be able to insert your exported PowerPoint video into a Repeat Signage presentation using the Video control. The play list feature of the video control allows you to schedule PowerPoint videos to either play one after the other (and loop), or specify hourly, daily or weekly playlists so that you can decide when your PowerPoint presentations are displayed.
VERY IMPORTANT - We recommend you use convert the .wmv video to Flash format, as this is far more efficient when playing video files. See below for converting to either .swf or .flv video. This is because our Video control takes up a lot of system resources when playing.
Converting existing Microsoft PowerPoint files to Flash FLV video files
The new Flash video control (added August 2012) allows the playing of Flash flv video files. Flash has the advantage of having a very small file size compared to videos stored in other formats, so is ideal for transferring over the Internet when updating remote Repeat Signage players. Flash video is also processor and memory friendly so allows you to use less powerful computers, to run multiple videos files on different screens (Standard and above editions).

Please visit the Flash video control page for a tutorial on converting PowerPoint files to flv video format.
Converting existing Microsoft PowerPoint files to Flash SWF video files

iSpring Free is a free plug-in for PowerPoint and lets you export your PowerPoint presentation as a Flash file. You can use iSpring Free to convert your PowerPoint presentations to a Flash .swf video file. There are several advantages of a Flash file over a wmv video:

1. Smaller file size, which is then easier to transfer over the Internet

2. Flash file takes up less memory and less processor time.

3. On some systems, if you spread a video over multiple monitors, then there can be issues. Flash files do not have this problem.


You can download a sample PowerPoint presentation from:
http://www.repeatsoftware.com/samples/WindyridgeCollegeLibrary.ppt
This is how to convert the WindyridgeCollegeLibrary.ppt to a .swf using Microsoft PowerPoint 2010 with the free iSpring plug-in:

1. Make sure you have Microsoft PowerPoint 2010 installed or download and install the free 60 day trial from the Microsoft website.

2. Visit http://www.ispringsolutions.com/free_PowerPoint_to_flash_converter.html and download and install the free ISpring plug-in.

3. Download and open the WindyridgeCollegeLibrary.ppt file from http://www.repeatsoftware.com/samples/WindyridgeCollegeLibrary.ppt, or open one of your own PowerPoint files.

4. Click on the 'iSpring Free' tab on the menu bar.

5. Click on the 'Publish' button.

6. Choose a name for the finished Flash file and browse and choose a local folder.

7. Put a tick in the following boxes: 'Start presentation automatically', 'Loop presentation', 'Change slides automatically'

8. Click on 'Publish'.

9. Open Repeat Signage and either open an existing presentation or create a new one.

10. Insert a Flash video control into the presentation and point this as your WindyridgeCollegeLibrary.swf file.

11. You will see an iSpring menu at the bottom of the video. This isn't what you want displaying in your presentation so what we need to do now is to cover this up. You can do this by inserting a Text label control and positioning this over the menu part of the Flash video control. In the example below, we have put words over this area, but you can omit the words so that just a white rectangle (or any other colour) covers the menu.



Use the Presentation Scheduler control to display Microsoft PowerPoint files full screen using Microsoft PowerPoint Viewer 2007 or 2010

Take a look at the PowerPoint presentation scheduler control on how to schedule presentations from within a Repeat Signage presentation, so that you can mix PowerPoint and Repeat Signage. You will need to set up your PowerPoint files so that they automatically move between slides and loop at the end as well. We have a video on this here: Setting up PowerPoint files for use in Repeat Signage digital signage software.
The disadvantage of this is that the PowerPoint files play full screen. If you want your PowerPoint file playing as part of your presentation, you will need to convert to pictures or video and use either the Flash Banner control or Flash video control controls instead.
Exporting PowerPoint files to PDF's and image files for use with Repeat Signage's controls that support pictures/PDF's
You may want to export your PowerPoint file as individual slides and display these using either the Flash banner control, PDF/Document control or the Picture control. This allows you to mix your slides in with play lists of other pictures and documents if required.
In OpenOffice 4, for example, you can just open your PowerPoint file (either a .ppt or pptx) and then on the 'File' menu is an 'Export as PDF' option. You can then use the PDF file with any of the picture controls and even specify which page (or slide) is displayed.
Microsoft Word documents in Repeat Signage
Just a note, from October 2013, Repeat Signage now supports Microsoft Word and OpenOffice.org Writer documents.
Designing Microsoft PowerPoint presentations
The best software to design PowerPoint presentations is Microsoft PowerPoint itself. It costs around £120+VAT in the UK. There is a 60 day free trial for this.
You can also use OpenOffice.org Impress to design PowerPoint presentations free of charge. Unfortunately, the really useful export to video option is not available in this software.
PowerPoint Templates
Try visiting the Microsoft PowerPoint website gives you access to loads of free PowerPoint templates that you can use as well.
OpenOffice.org Impress presentation software
You can use the free OpenOffice.org Impress software to design presentations. Repeat Signage doesn't support the playing of these as unfortunately the player is too slow loading. We recommend you open Impress and save your presentation as a PowerPoint file in order to use Microsoft PowerPoint Viewer to play them.
YouTube videos
Repeat Signage controls - PowerPoint scheduler control 2014
Setting up PowerPoint files for use in Repeat Signage digital signage software