Repeat Signage digital signage software
Simple to use. Windows platform. Internet and network updatable software
Repeat Signage V5 (Version 5)
User-friendly, flexible digital signage software that lets you easily create engaging digital content including images, video, RSS feeds, documents, database content and more, to play on any size display screen, anywhere. Updating content is easy - from local network drive, remotely over the Internet or via FTP from your own website.
Many schools, hospitals and businesses around the world use Microsoft Windows. Due to Repeat Signage's powerful Windows platform and easy user interface many of our customers require very little training and found that their current Microsoft Office skills were easily transferable to Repeat Signage.
Create Content
Easily create and schedule dynamic digital signage presentations to display on any size screen, in landscape or portrait, anywhere.
Simple to use, you can create an digital signage presentation and have it playing on screen in around 20 minutes. Screenshot walk-through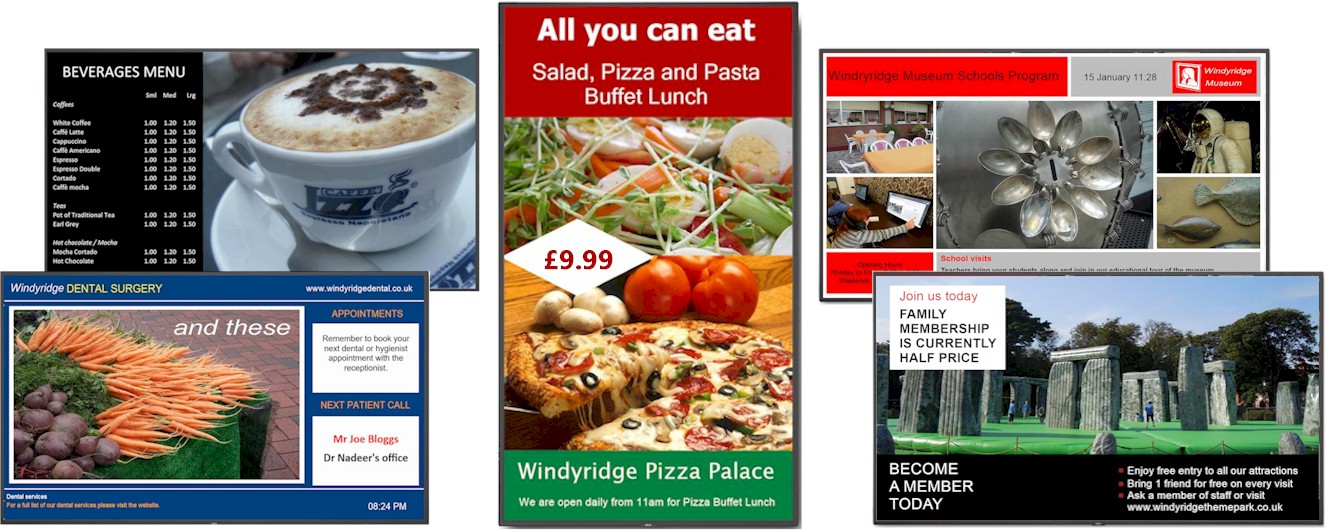 Digital signage presentations for any size screen, landscape or portrait. Main picture above courtesy of Sharp NEC Displays
With Repeat Signage Standard edition you can display a wide variety of digital media: Animated gifs - Audio - Banner pictures or pictures with text - Barcode or QR code - Date and time - Digital clocks - Documents - eBay auctions - PDFs - Pictures (single) - PowerPoint - RSS reader - RTF documents - Shapes - Spreadsheets - Text - MP4 video - Web browser - Webcam
Repeat Signage - digital signage features
This simple to use digital signage software includes a spreadsheet grid, PowerPoint presentation scheduler, 4,000 icons, templates and a Repeat Pictures feature that allows you to add text to pictures, documents, shapes, etc. and save as an image to use in your digital signage presentations. Supports Unicode for the display of country characters.

Overview of Repeat Signage Standard and Standalone editions (2:44 mins/secs)
Repeat Signage Corporate edition has the same features as the Standard edition plus the ability to display streaming media, and to run SQL queries (or use the SQL wizard) to display images and text from a database on your display screens. Ideal for keeping track of orders and processes in e-commerce or warehousing or for display company metrics in corporate offices.
The Media Wall edition allows the creation of 2, 3 or 4-screen video walls. It has the same features as the Corporate edition and is designed to play the same or different content on your video wall from 1 Windows computer.
To create dynamic and engaging digital signage presentations for your display screens, download Repeat Signage onto a Windows computer. Insert your digital media, resize and move around the screen to create your presentation. Double click each item for more options, such as changing font and colours. There's an option to change your screen size at a later time. Includes free online training videos, walk-through help menus and email support with a normal response time under 2 hours, spanning multiple time zones.
Give it a try right now!
"From a technical perspective, DockCom Technology Services, as an integration and signage installation specialist, find Repeat Signage software an excellent choice of reliable software with an extensive feature range, suitable for many applications. Most importantly, we find that clients like the software and find it easy to use." Mark Stytsenko, Technical Director, DockCom Technology Services, Melbourne, Australia.
How to create a school digital signage system (17:59 mins/secs)
Connect and Play
Connect your Windows computer (small media player, Slot-in PC or USB computer stick) to any size display screen, in landscape or portrait, to play your presentations.
How to create a digital advertising display (14:58 mins/secs)
Schedule Playlists
You can add your presentations to a playlist, to display these on screens continuously one after the other, hourly, daily, weekly or at specific dates and times.
This recorded video (0:22 secs) demonstrates three digital signage presentations, created with Repeat Signage's in-built spreadsheet grid, displaying one after the other. You control how long each presentation appears on your display screens. Double click the grid for easy editing.
Manage Content
Repeat Signage gives you a choice of how to update your content. Schools and businesses in one location may prefer to update their presentations via local network. How to use Repeat Signage on a network (PDF infographic).

Please note: The infographics show a tower server for illustrative purposes only. Player computers can be small Windows PCs, Slot-in PCs on display screens or USB computer sticks.
You can update presentations to display screens remotely over the Internet with a free RepeatServer.com account. This is ideal for businesses to broadcast messages from a central location to screens anywhere in the building, country or across the world (with an Internet connection). How to use Repeat Signage with a free RepeatServer.com account (PDF infographic).
Security conscious clients may wish to update digital signage presentations remotely but prefer to do so from their own website. How to use Repeat Signage over the Internet (PDF infographic).
How much does it cost?
The licence fee is:
British Pounds +VAT £245
US Dollars $345
Euros €275
Australian Dollars $430
Canadian Dollars $425
New Zealand Dollars $460

Repeat Signage 2-year licence includes email support and all updates during this period. Option to renew every 2 years. 1 licence is needed for each Windows PC playing presentations to 1 display screen (4 screens from 1 PC for Media Wall).  Pricing
Outstanding support
We offer excellent support with a help menu system, training videos and email support.
Repeat Signage has a context-sensitive help system which means that appropriate help is available whenever you press the F1 key on your keyboard. For example, on the Designer screen, pressing F1 gives you information on adding, resizing, moving and deleting all the types of controls (text, PDF, pictures, videos, etc). Online help menu. We provide a number of free online training videos.
"It's like you're a home town business down the street. We have been extremely pleased working with Repeat Signage – customer service is second to none, especially on a weekend! World Class Support!" Brian K. Nunning, Association Manager, Indiana State USBC.
Email support is available Monday to Friday from 08:00 to 22:00 GMT. Limited email support is also available over weekends and public holidays. This means that we can effectively support US and international customers even though we are based in the UK. Support.
Can I try before I buy?
The trial edition lets you create and edit presentations. You can then play your presentation on screen for 10 minutes before a ghosted 'trial edition' message appears. When you purchase Repeat Signage, a serial number is issued that allows you to unlock the full version on your computer. Trial download. No details nor payment needed.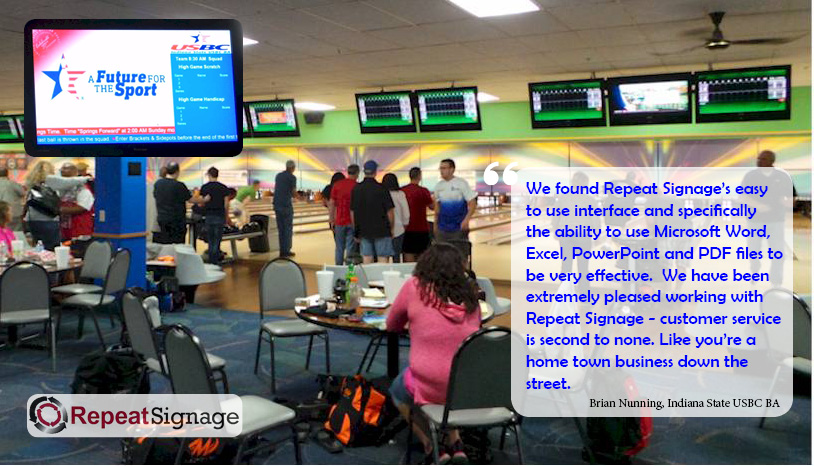 Repeat Signage displays digital signage content at the Indiana State USBC tenpin bowling tournaments
Don't just take our word for it
Repeat Signage is in use in a diverse range of businesses. It is used in factory production environments, airports, power stations, publishers, shops and restaurants around the world. Repeat Signage software is also in daily use across schools, colleges and universities and US and UK NHS hospitals. 90% of our customers use the Standard edition of the software. We have satisfied customers in 31 countries across the world. You are welcome to download a brochure (PDF). Or view our case study success stories.