All Repeat Signage edition controls
Standard edition and above controls
All edition controls plus:
(An old control replaced by the Flash Video control)
PowerPoint file support in Repeat Signage V4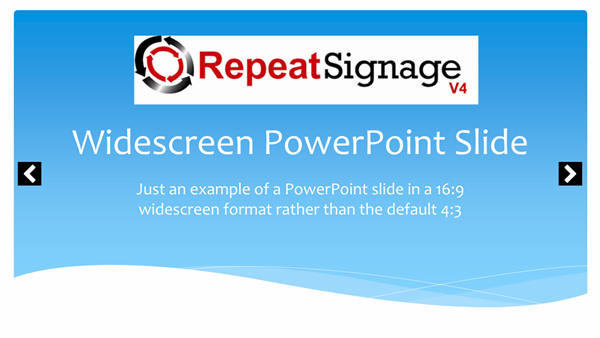 All our picture based controls will now display slides from PowerPoint .ppt and .pptx files. Microsoft Word and Microsoft Excel spreadsheets can also be displayed by several of our controls. See Using Microsoft PowerPoint presentations in Repeat Signage for a walk through. With the addition in Page Range option November 2015:

this means you can chose exactly which slides from a PowerPoint you would like to display. The Flash banner control and Picture control both support play lists so you can display all or some of the slides from PowerPoint files.


New picture based Touch Screen options in Repeat Signage V4
Touch screen presentations in previous versions of Repeat Signage allowed you to presentation touch screen websites to your users. With Repeat Signage V4 you can create touch screen presentations by selecting pictures (and optional text) to display to users. Fully customisable arrow buttons allow navigation. Below is our ROTATOR option that allows a conveyor belt of pictures to be scrolled through: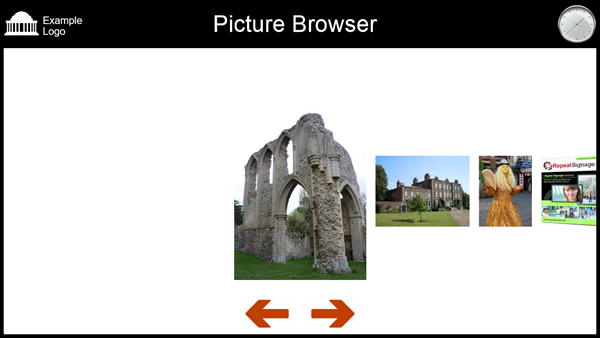 A new PAGE FLIPPER option has also been added so that users can see PDF brochures and flip through the pages: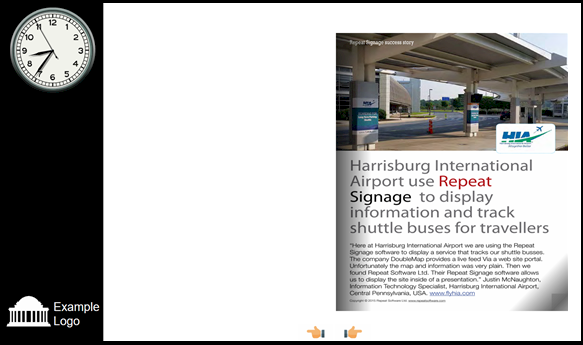 PDF files, pictures, PowerPoint files, Excel spreadsheets, Word documents, etc, can all be displays with these picture based touch screen controls. All of these options are also available in non-touch screen presentations, but without the previous and next arrow buttons.
New Spreadsheet control
The new Spreadsheet controlis available in all editions of Repeat Signage. There is a built-in spreadsheet editor so you can add spreadsheets within presentations. Spreadsheets can also be displayed from network drives so that you change the spreadsheet and Repeat Signage can then update the screen in real time. We have added a spreadsheet creator/editor to the free tools menu on the main Repeat Signage screen. Spreadsheets are also available in the Repeat Pictures system where they are ideal for adding grids and even graphs to your picture files.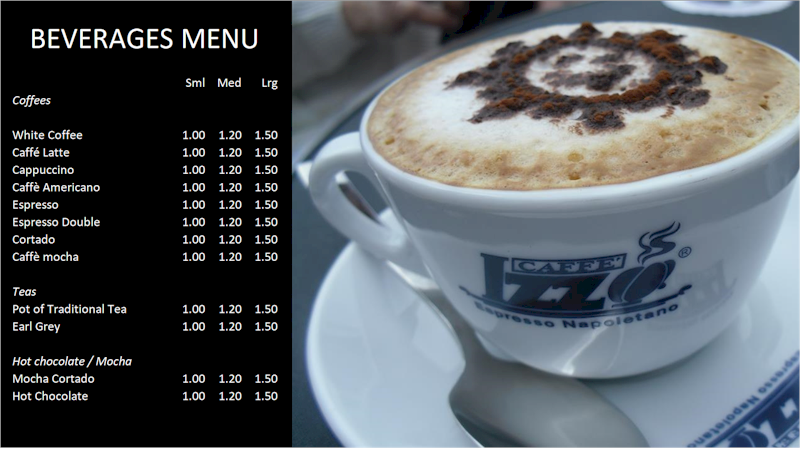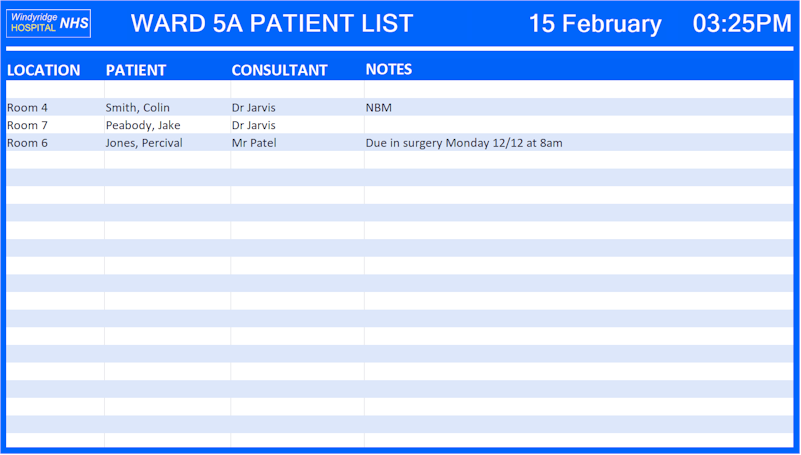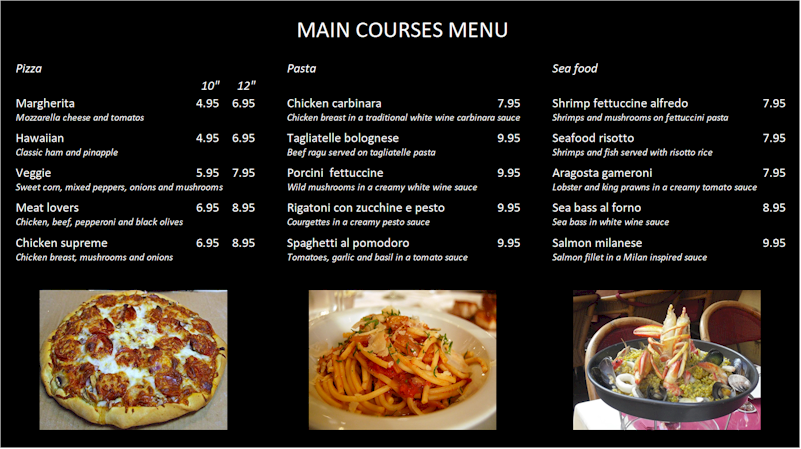 See Spreadsheet control for more information.
Repeat Signage Flash banner control
The Flash banner control to display pictures with text over the top and gives you the ability to have transitions between pictures. There are currently 50 transition effects that you can use. For each picture you can also optionally specify a title and description to go with it. This can be useful when displaying items for sale. For example, in an estate agents window a selection of houses can be shown with a title such as '100,000 Boston' and a description such as '4 bedroom terraced house with large garden'.

The above images show text that can optionally be added to pictures in the playlist. The first just has a title and then second has a title and description. The font size, font colour and background colour can be specified for both the title and description. The positioning of the text can also be adjusted.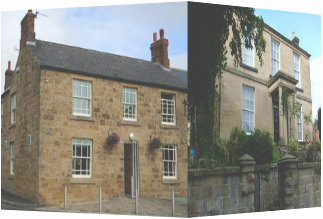 The above picture shows the house image rotating off with the transition effect 'Cube rotate right' so that the next house picture displayed
Repeat Signage Flash clock control
The Flash clock control gives you 10 customisation professionally designed Flash clocks (Note - Only two are available in the Standalone edition). You can specify time zones and background colours for each clock. With many clocks you can also change the face and text colours.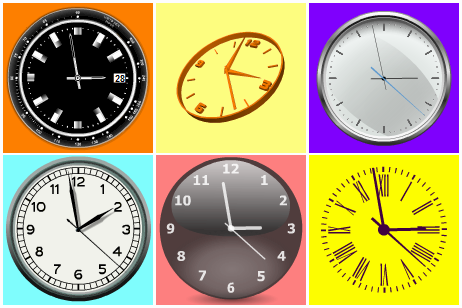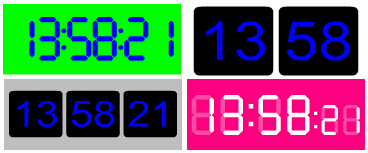 Repeat Signage Flash RSS control
The are two different Flash RSS control types. The first allows scrolling, rotating and even bouncing text. The second has the news ticker type effect you see on many websites and television channels.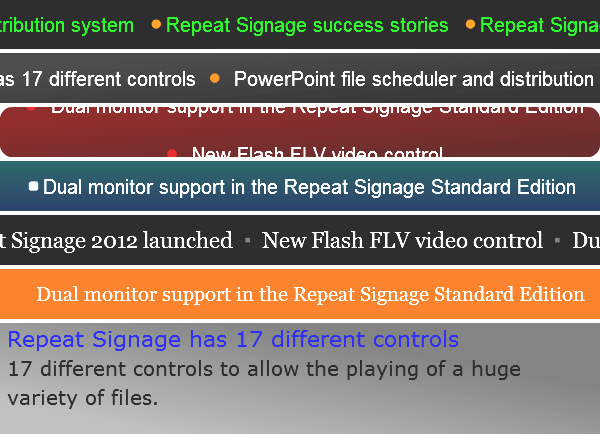 You can also create your own RSS news feeds free of charge at RepeatServer.com. This free service integrates with Repeat Signage so that you can create news feeds and easily use them with Repeat Signage presentations. You can log onto RepeatServer.com from anywhere in the world, using any Internet connected device, and update these. Or, just update from within Repeat Signage.
Repeat Signage Template Wizard
We have a number of templates to help you get started with Repeat Signage. When you create a new presentation you see the Template Wizard which will allow you to create a blank presentation or select one of our samples: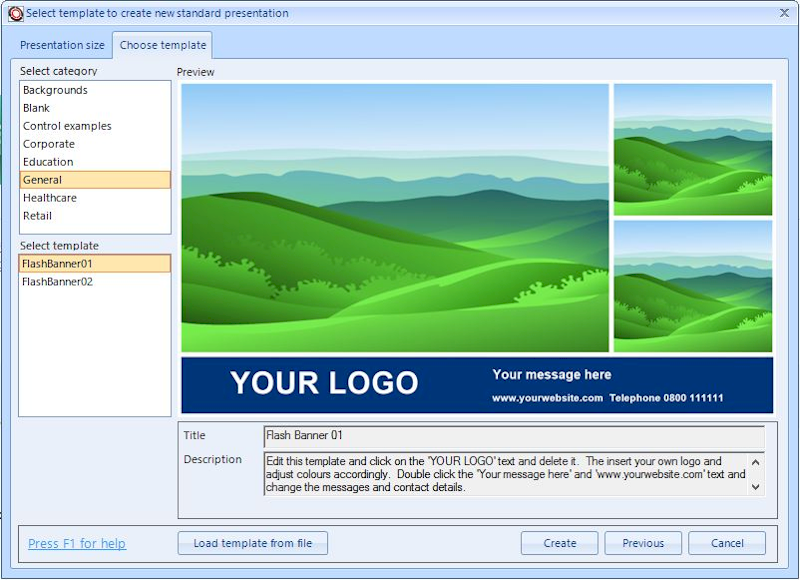 Play lists of presentations (scheduling) in the Standard and above editions
A play list is a list of Repeat Signage presentations you want to play and when they should be displayed. There are several play list types and you can choose from including STANDARD, CONTINUOUS, HOURLY, DAILY, WEEKLY and DATES. Presentations are just dragged and dropped onto the play list grid from either local/network files or from a free RepeatServer.com account. The picture below shows DATES scheduling: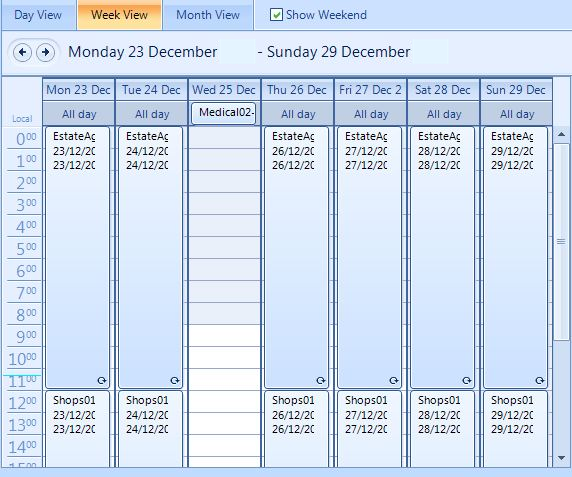 which allows the use of recurring tasks to make data input as quick as possible: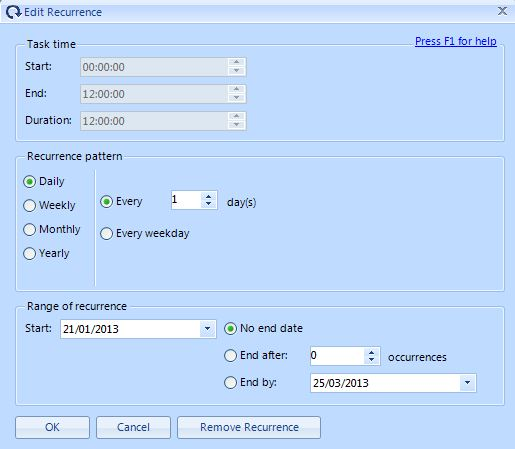 Play lists can be uploaded to your website or a free RepeatServer.com account along with your presentations. Remote Repeat Signage player computers can point at your play list. When you change your play list, then the player computers download the new version to facilitate remote updating. See our Play list screen help page.
Landscape and portrait presentations
Design and play presentations in either landscape or portrait orientation. See our landscape and portrait help page.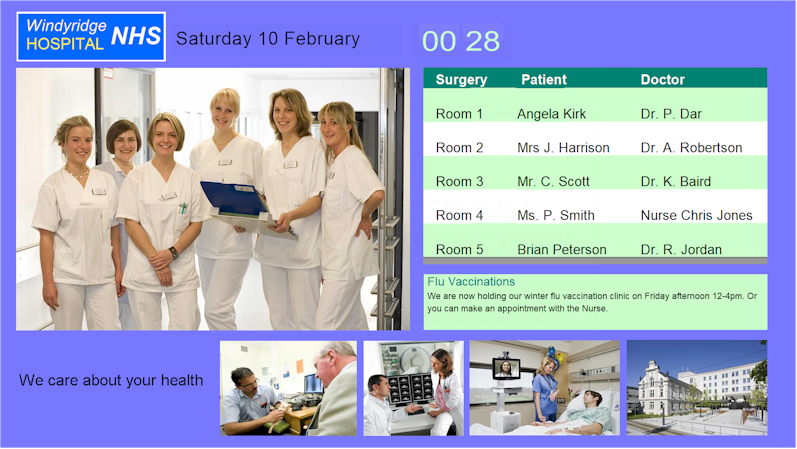 One of our sample presentations in landscape orientation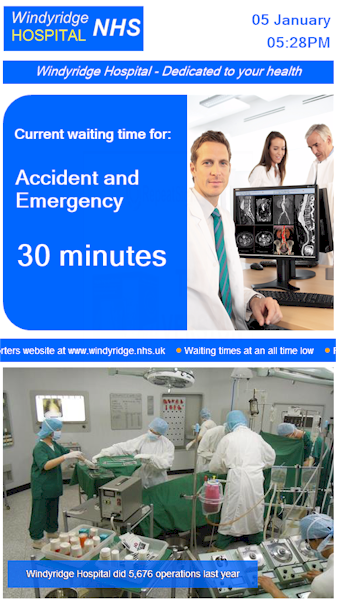 One of our sample presentations in portrait orientation
1, 2, 3 or 4 monitor support
Repeat Signage Media Wall edition supports up to 4 monitors. Many new graphics cards in computers have connections for two monitors. Repeat Signage allows you to display information across multiples screens, or play different presentations on each screen. You only need 1 Repeat Signage Media Wall licence for a computer with 2-4 monitors attached to a single PC.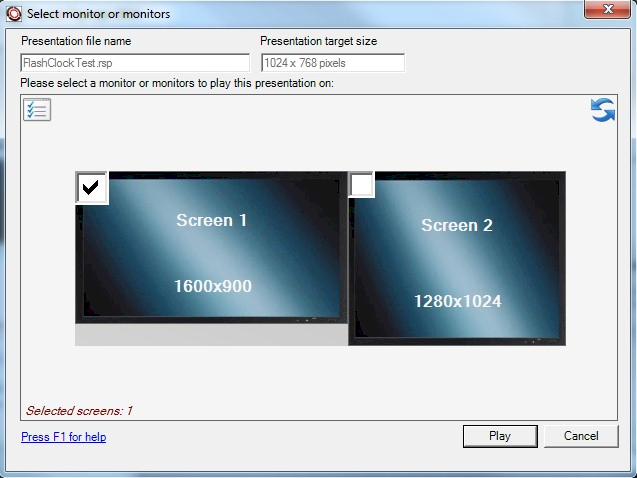 When you come to play either a play list or a presentation, then you are prompted (see above) asking which screen or screens you want to display on. In the example above, screen 1 is ticked but if you designed a presentation that spanned both screens you can tick both screens instead. You can also set presentations to start with Windows and on multiple monitor systems then you can select which screens to play presentations or play lists on and whether or not presentations span monitors.
Free support for Repeat Signage
Support is free of charge. Contact support@repeatsoftware.com with any queries or problems. We give the same high levels of support to customers and evaluators.. Repeat Software is a UK based company but don't let that put you off if you are based world wide. One recent company in the US recently commented:
"Thanks for all the work. Not very often do I come across a company that would be willing to spend the time on a potential customer like you have. I must admit that at first I was having second thoughts about going with a company that is in the UK, but you have definitely addressed that concern."
Content file monitoring whilst presentations are playing
You could have text file or an image adverting a special offer. If this is placed on a network drive (or on an Internet website or RepeatServer.com in the Standard and above editions) then Repeat Signage can monitor this file for changes whilst playing. If you change the text in the file or update the image to a new special offer, then that text can be automatically played. If the file is on a network drive, then it can be updated from any computer on the network (with appropriate access levels).
Using Repeat Signage on a network or over the Internet to update presentations from a central point
The following diagram shows how you can remotely update Repeat Signage presentations over the Internet using RepeatServer.com using either the Standard or above editions of Repeat Signage:
RepeatSignageRepeatServerInternetExample.pdf (260Kb)
With Repeat Signage V4, your free RepeatServer.com account is integrated into Repeat Signage so that you can select RepeatServer.com items to insert into presentations and even play presentations and play lists directly from RepeatServer.com.
Take a look at the following PDF diagram to see how to use Repeat Signage Standard (or above editions) over a network:
RepeatSignageNetworkExample.pdf (231Kb)
You can use the Standard (or above editions) to update players via the Internet anywhere in the world using your own website and FTP:
RepeatSignageInternetExample.pdf (256Kb)
In the Repeat Signage system settings, you can choose to monitor playing presentations. Playing a presentation from a network drive allows other network users (with permission) to update it and then the player automatically reloads and plays the new version. The Standard and above editions also allows the use of play lists of presentations so that you can point players at play lists on Internet websites and they are automatically downloaded and played when changed.
Also see Using Repeat Signage with Dropbox which gives details of how to remotely update presentations and content files via Dropbox.com.
Using PowerPoint presentations in Repeat Signage
Take a look at the PowerPoint presentation scheduler control help page on how to schedule presentations from within a Repeat Signage presentation, so that you can mix PowerPoint and Repeat Signage. Microsoft PowerPoint files can also be converted to videos. See the Using Microsoft PowerPoint presentations in Repeat Signage help page for more information.
Touch screen digital signage
You can now create touch screen digital signage presentations in Repeat Signage. Please see Touch screen presentations overview for more information.
Sample presentations
We have a number of sample presentations online to help you get started. See Sample presentations.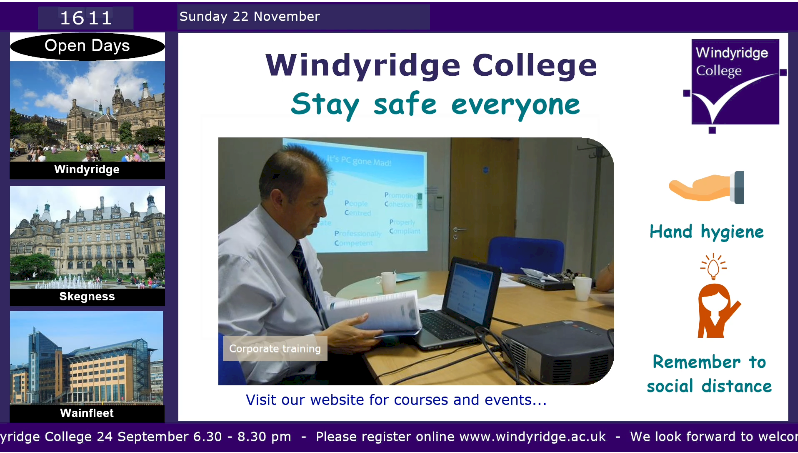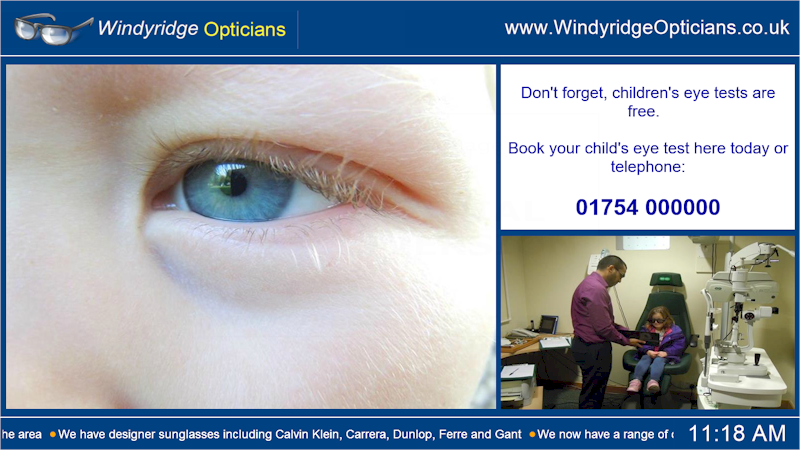 Printing to playing presentations from any application
If you install a free PDF or picture printer, that installs as a virtual printer under Windows, then you can print from your applications (Word, Excel, Visio, etc) to either PDF or picture files. Repeat Signage presentations using these files can monitor them for changes as they are playing, and automatically update the playing presentations with the new versions.
Repeat Signage player always on top of other applications
You can specify to keep your playing presentations on top of all other Windows programs and keep it there actively. The is a player option in the Repeat Signage system settings.
Cropping pictures automatically with the picture control

The first picture above is the original image. The second picture shows a tall and thin image and the left and right sides of the image have been cropped (removed) rather than stretching the image. The third image is long and thin and the top and bottom of the image has been automatically cropped. The above images are cropped using our AUTOCROP CENTRE setting of our picture control.
RSS feed creation
Repeat Signage has it's own built in RSS feed manager for creating RSS feed files that you can use on network drives. See RSS feeds for more information on what RSS feeds are. You can create and host RSS feeds online using our free service RepeatServer.com and this can be used with the Standalone, Standard and above editions.
ZIP file support
Content files such as pictures and videos can be played from within ZIP files which means that transferring updated content over the Internet requires minimum bandwidth and download time.


Support for displaying country characters
Support for displaying Chinese, Japanese, Korean, Russian, Greek and other character sets in Repeat Signage
Repeat Signage and RepeatServer.com have been updated to have Unicode support. This allows the displaying of Chinese, Japanese, Korean, Greek, Russian characters, etc: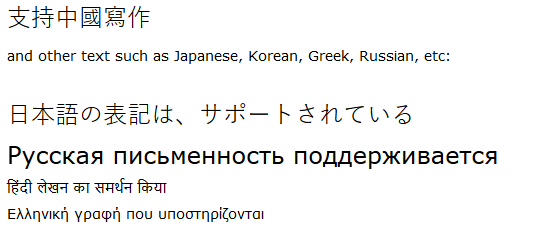 Free Trial Download
Buy Repeat Signage