Contents
Digital signage replaces paper notice boards
Digital signage communication system
Why should we use digital signage?
Where is digital signage used?
Create, connect and play - What equipment do I need?
Create your digital signage content
Advantages of using digital signage software
Disadvantages of digital signage
Repeat Signage digital signage software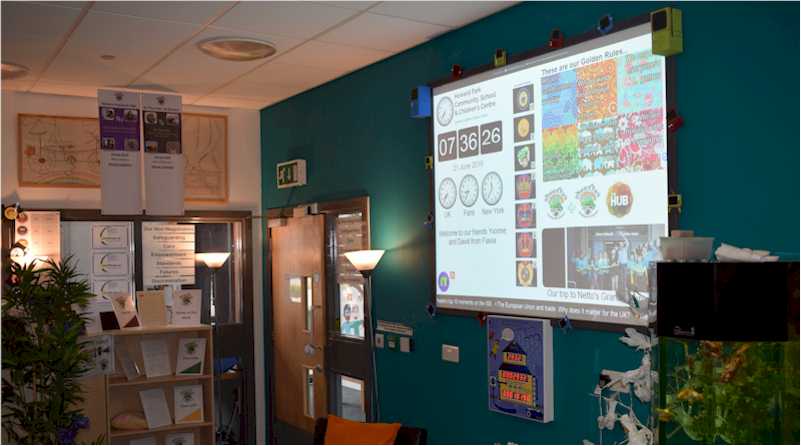 Digital signage software provides key communication in schools. Download digital signage presentation ideas (PDF)
Digital signage is about displaying still and moving images, text, video, scrolling newsfeeds and other digital content on small and large display screens and kiosks in public areas.
An example would be in a school reception area. Using digital signage software on your computer, you create a presentation by inserting digital media such as a your school logo, a playlist of school activity images, video of highlights from your school sports day or drama production and RSS newsfeed of school messages or local news.
Your dynamic digital signage presentation is then played on the reception area display screen to give visitors a flavour of the school community and ensures effective communication for staff and students. Scrolling text messages can be personalised to welcome visitors and provide information and school events to parents collecting children after school.
Different presentations can be created, for example, displaying a spreadsheet of menu items and images in the dining area, and scheduled to display at various times of the school day or week. A display screen in the school office or staff room provides administrative information for staff and visiting governors.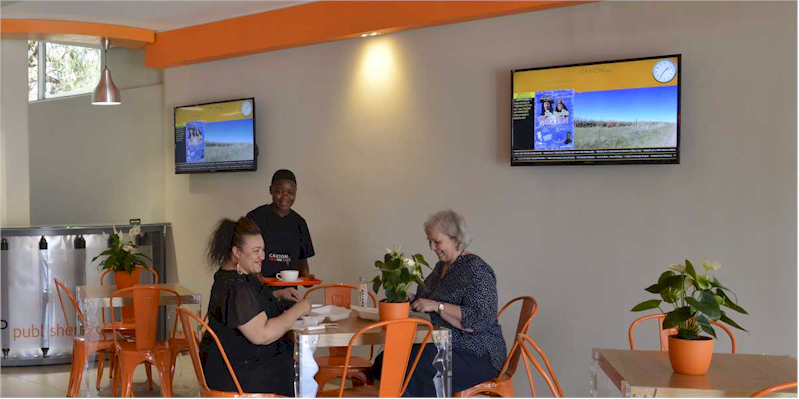 "During corporate events, we live stream via YouTube from the event and display that to staff on all the floors ."
There are hundreds of notice boards in offices, community centres, cinemas, doctors' surgeries, hospitals, schools, and other places, on a whole host of topics, covering Health & Safety, menus, opening times, events, special offers and other information.
There is a growing trend to move away from paper notices to digital media along with a growth in display screens in public areas.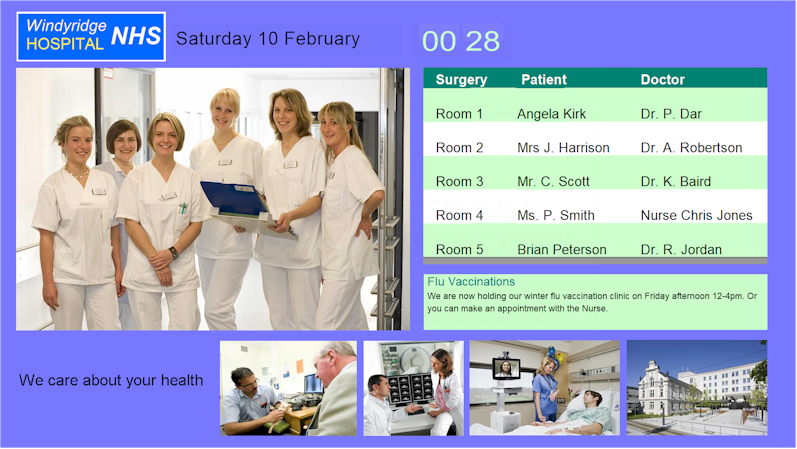 Images courtesy of Sharp NEC Display Solutions; software Repeat Signage.
In a hospital waiting area, for example, digital signage software can display the date and time, a playlist of pictures, a video and RSS news feed messages (like the ticker tape messages you see on TV for the sports results or breaking news), and a spreadsheet displaying clinical information.
In the accident and emergency areas of clinics, current waiting times can be displayed and easily changed by the receptionist to keep patients and visitors updated. Healthcare information can be displayed, images of hospital services and even a video to entertain children.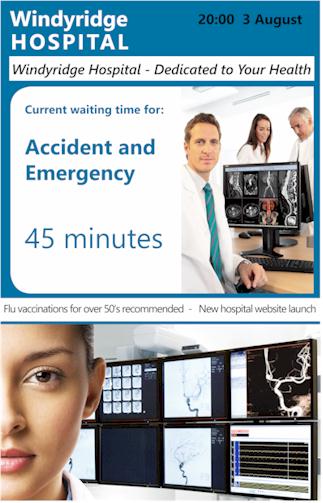 Waiting times can quickly be updated on a computer.
Images courtesy of Sharp NEC Display Solutions; software Repeat Signage.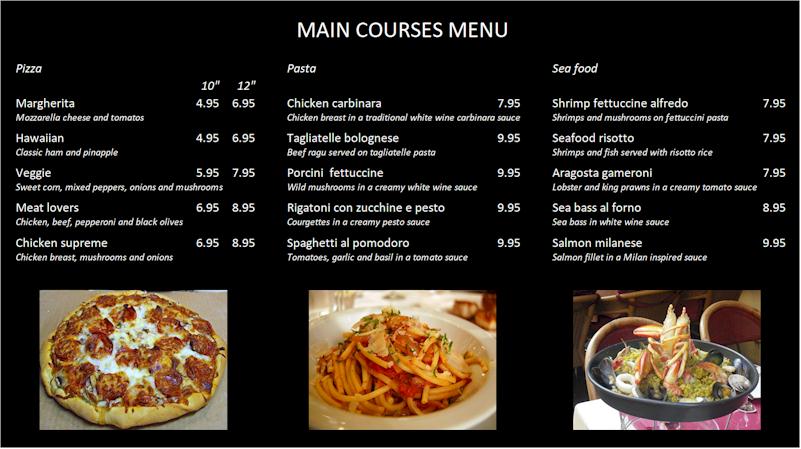 Sample presentation includes a spreadsheet of menu items and playlist of images.
Digital signage is used to:
Provide information - travel information, menus, weather, national news, college courses, sales graphs, product brochures, etc.
Entertain - play a video or playlist of pictures
Advertise - products, services, offers and events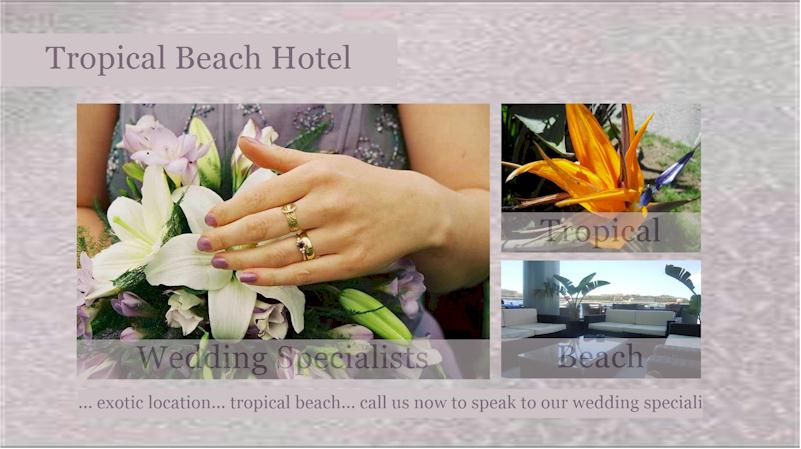 Sample presentation comprises logo, playlist of images, static images, text and an RSS newsfeed.
Digital media, also called multimedia or dynamic content, includes still and moving pictures, animated gifs, text, text over pictures, videos, audio, RSS news feeds, web pages, weather data, real-time clocks and date, webcams, streaming video, documents, spreadsheets and PDFs, etc.
Almost anywhere indoors where you wish to display information, entertain or advertise your services.
Outdoor digital signage screens in town centres and theme parks display tourist information; drive through fast food restaurants displaying menu choices; whilst bus and train stations display passenger information.
Patients in waiting rooms can view healthcare information and read clinical or local news feeds.
Digital signage presentations, played on small or large screens, can be scheduled to display information at various times of the day or week. For example, in a business reception area, products and services can be advertised, and when important visitors arrive they can be greeted by a welcome message scrolling along the bottom of the display screen.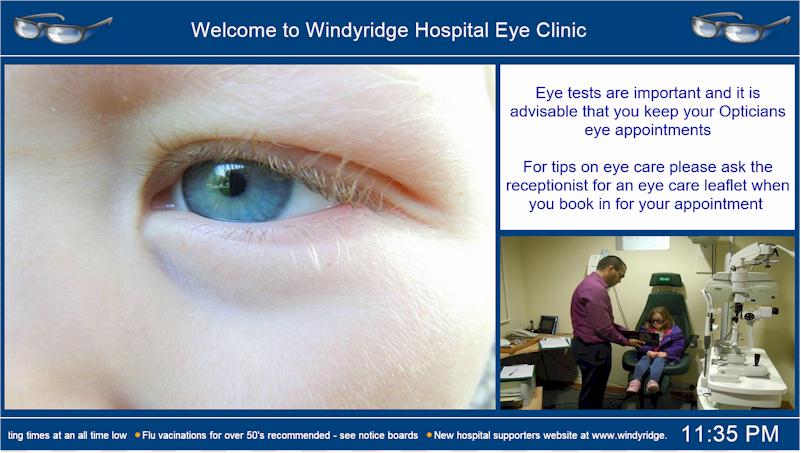 Patients in waiting rooms can view healthcare information and read clinical or local news feeds.
In doctors surgeries, dental practices, opticians, hospital clinics and veterinary surgeries, digital signage can provide important health information and alert patients when it's their turn to be seen.
Examples of digital signage software presentations.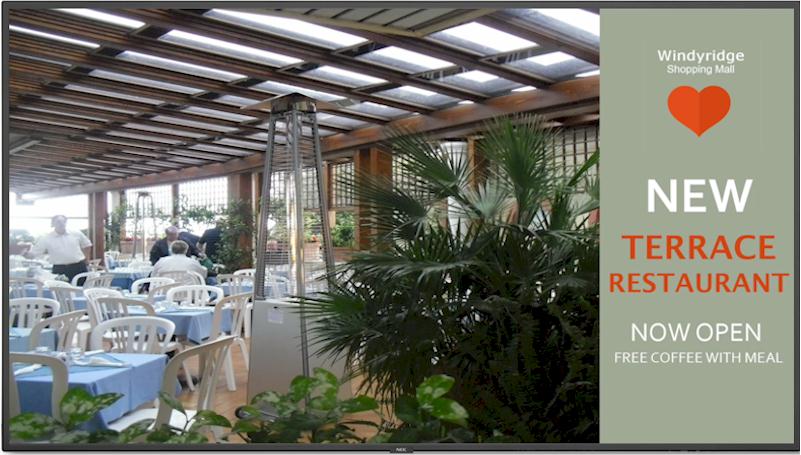 Sample presentation created with Repeat Signage digital signage software.
Software - to create and display your digital presentations. Software is normally available as SaaS (software as a service) where you create your software on a third party service website and pay a monthly subscription for using the service, the cost depending on how many display screens you use the software on. For example, to display software content onto a 4-screen video wall normally incurs the cost of 4 display screens, 4 media players and 4 software licences.
Repeat Signage software is downloadable software with a Windows platform. The software gives options to update your digital signage presentations, either from a network, your website via FTP or with a free RepeatServer.com account. The two-year licence fee includes updates and email support and a licence is needed for each Windows computer (media player, Slot-in PC or USB computer stick) playing presentations onto one display screen. The Media Wall edition is cost effective as you would need 4 display screens, 1 Windows media player and 1 Media Wall software licence.

Hardware - display screens
There are many display screens on the market designed for commercial use. These include large format LCD or LED screens, high brightness screens, sunlight readable screens, display screens designed for 12/7, 16/7 or 24/7 use. Interactive displays and kiosks allow customers to browse information, order brochures etc. Also available are small display screens available designed to sit amongst supermarket or retail store shelves to advertise products or provide information.
Hardware - media players
Media players are small form computers, available for Android and Windows, and are designed to sit behind the bracketry of display screens. USB computer sticks, for Android or Windows operating systems, slot into the USB port of display screens. Some display screen manufacturers offer screens that allow Slot-in PCs on the rear of the screen. These tend to be more expensive than media players but being part of the display screen, are a deterrent against theft and tampering.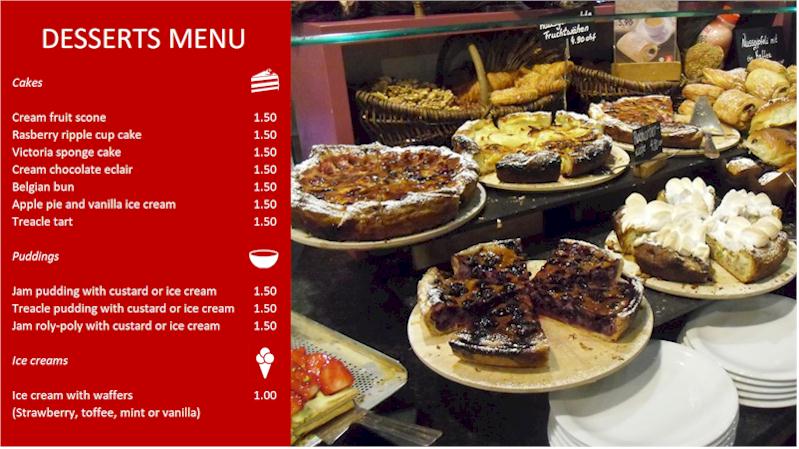 Repeat Signage presentation showing use of spreadsheet, icons and playlist of images
Your content could be:
A simple playlist of pictures
A corporate or entertainment video
A Microsoft PowerPoint presentation
Professional digital signage software.
Professional digital signage software allows the display of dynamic digital content, which can be controlled from a central location, ideal for high street chain stores and restaurants or hotel groups wanting to centralise information, with presentations scheduled for display at various times of the day or week.
As an example, an entertainments manager of a leisure complex is responsible for advertising forthcoming events. He uses software to create a presentation, promoting that days' activities and forthcoming events. It's his day off on Tuesdays and he needs to advertise the day's programme of events from 9am in the morning, which changes hourly. On Tuesdays he either has to delegate the task or come into the office on his day off (not a popular option). Professional digital signage software that allows a variety of digital media to be scheduled and displayed at pre-determined times during the day and week, lets the software work for him and not the other way round. As more people work from home, content can be updated remotely over the Internet at any time of day or night. Even on an exotic island beach if you suddenly remember you need to change some content!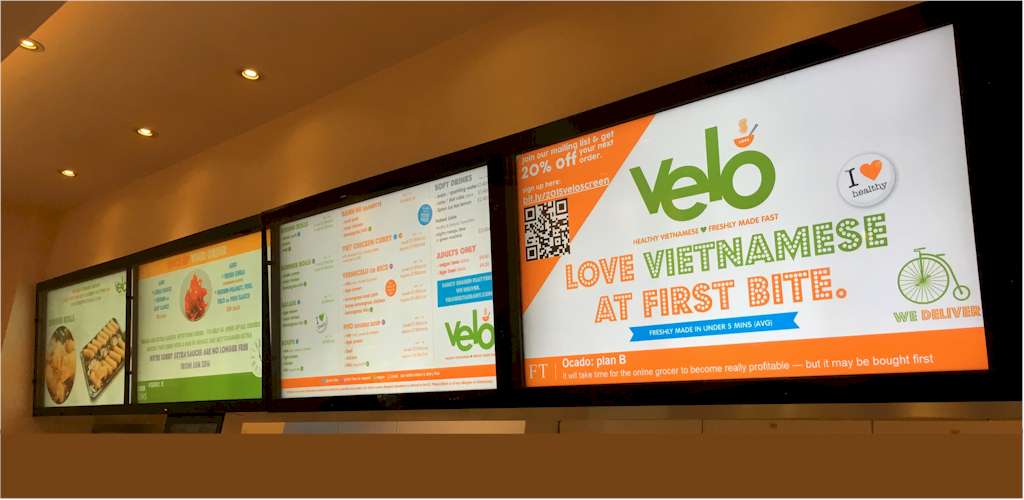 Repeat Signage Media Wall software at London's Velo Restaurant, in daily use for over 6 years, promoting healthy Vietnamese food.
Dynamic content - You can include a variety of digital content to create your digital signage presentation.
Rather than a slideshow or a video, digital elements are included on a 'one page' presentation, for example, your logo, text, static images, playlist of images, animated graphics, video, audio, RSS news feeds (or scrolling text), etc.
Depending on the digital signage software you use, you can insert PowerPoint presentations, spreadsheets of menu items or financial data, page-turning PDFs, documents, webcam, website pages and even display text and image content from a database.
Create impact - Digital signage presentations can be displayed on a single display screen or onto a video wall, either portrait or landscape. For example, four display screens in landscape (horizontal) format, are ideal for digital menu boards in fast food restaurants, whilst large display screens in portrait (vertical) mode are used for digital fashion shows or displaying life size characters in museums. A single image can be spread across all screens or separate content on each screen.
Increases in-store brand awareness - Advertising brands and promotions increases impulse purchases and promotes online shopping when stores are closed. Income can be generated by advertising non-competing local businesses.
Save printing costs - Digital signage saves on costs of paper and printing of traditional flyers and posters and messages and information can be updated almost immediately.
Scheduling - Different presentations can be scheduled to play at various times of the day or week, especially useful for restaurants for displaying breakfast, lunch and evening meal menus and special offers.
Encourage customer interaction - Interactive presentations to be displayed on interactive monitors and kiosks. These are ideal for way finding in shopping malls and airports, or for turning the pages of brochures or catalogues in shops.
Control your content - Depending on the software, you can create your own digital signage presentations, updating content manually, via local network or remotely over the Internet from an online server or your own website.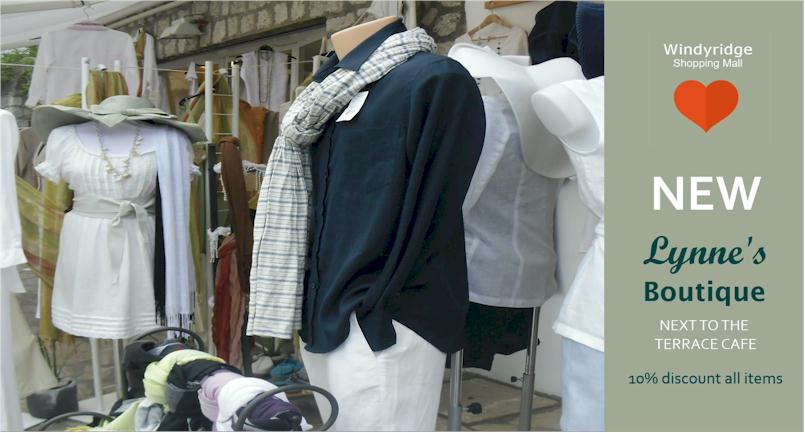 Presentations can be created in minutes with Repeat Signage software.
Time - Time incurred to create your own digital signage presentations. However, whenever new software is used, there is always a learning curve. Many digital signage software providers will ensure they offer a user-friendly interface, and some offer free templates and training videos. An alternative is to employ the services of a graphic design company to create digital presentations for you (which could be off-set against previous printing costs).
Cost - Calculating costs. Software licences are normally on subscription, either a monthly fee, annual or bi-annual, which has to be budgeted for and can prove expensive when you have multiple screens and use the software for many years.
However, costs can be off-set by an increase in sales as a result of having digital signage displays. Furthermore, there is an opportunity to generate an income through advertisements. For example, in a shopping centre, digital signage can provide way-finding, promote events and generate advertising by featuring its shops and brands.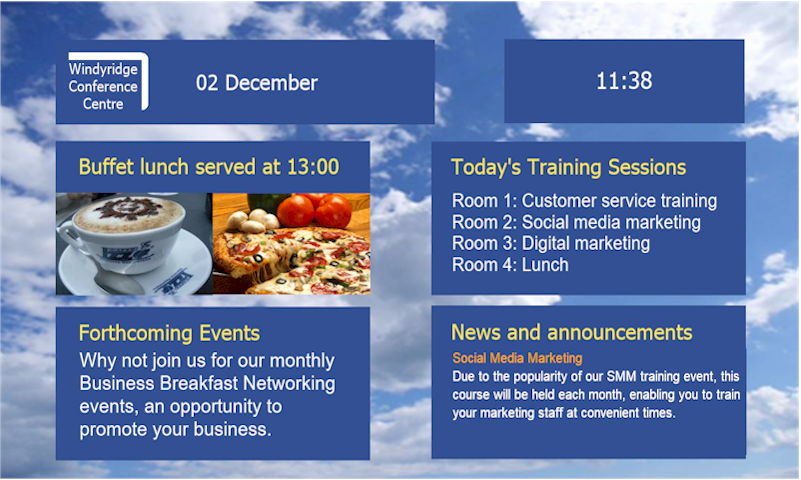 Repeat Signage software includes Unicode support for the display of country characters.
Windows-based, Repeat Signage is downloadable software that can be updated via local network or remotely over the Internet. For security conscious organisations who prefer not to host content on third party websites, Repeat Signage presentations can be played onto display screens accessing content from your own website (the player computer connected to the display screen collects the content from your website.)
A Standalone edition is also available that allows content to be updated manually, making it ideal for networking meetings, primary schools, military outdoor events and local exhibitions. As many businesses and organisations use Windows computers, their Microsoft skills are easily transferable when creating presentations in Repeat Signage software.
Repeat Signage software licences last for two years and include all updates and email support during the period. A licence is needed for each Windows player computer displaying presentations onto one display screen (4-screens for the Media Wall edition). Repeat Signage comparisons.
Repeat Signage brochure (PDF) showcases ideas for using digital signage across multiple vertical markets and countries and you can read this online without leaving any details.
Repeat Signage allows you to set up a free account to easily create your own RSS news feeds and include these in Repeat Signage presentations, or they can be uploaded to your website as part of your social media marketing and Search Engine Optimization (SEO) RSS Feed Expert.
Disclaimer: The purpose of this guide is to give a general overview and acts as a guideline only.
Digital signage design ideas (PDF)
Repeat Signage software